Please introduce yourself briefly.
My name is Kevin Maes, dad of two kids. I have been passionate about KFC Black Lions all my life: first as a player and later as a board member of the club. Currently I am vice-president and in charge of the optimization of the club structure and youth academy operations. In that context, PSD and expanding its use fits perfectly into our strategy.
Describe your club in maximum 5 key words.
Willpower, passion, tradition, sustainable future.
Willpower, is something we value tremendously and we try to do that in a visual way within our club. In our stadium, at the top of the stand there's a banner that says 'Come on Lions'.
Passion is very closely related to willpower; we want people in our club who have a certain connection with the club. There are a lot of people working at Black Lion who used to be former players and who are passionate about Black Lion.
We have a very rich past, we had successes in the Belgian Cup and almost played in the first division, but we still surge on that too often. We have to look to the future while honoring our past. That tradition is something we cherish, but we need to think more about the future.
A sustainable future has two facets. On the financial front we want to remain financially healthy but I think that's the objective of every club. Without being financially healthy, you cannot grow qualitatively: in terms of technical football, in terms of organization, in terms of integration of different cultures and opinions.

(read more below the picture)


What is the mission and vision of your youth academy?
"To want is to be able" is our mission statement. We believe that if you want something, you can do it if you work hard for it. Therefore, our key value is willpower. We want to achieve this (vision) by giving opportunities. Giving players opportunities to develop but also giving volunteers opportunities to take ownership of projects and achieve their personal goals.
Why did your club choose to implement PSD?
We want to take a step forward with our Lions Academy in terms of general sports management and the individual coaching of players. PSD is a highly professional package that meets these requirements.
How did you successfully implement PSD in your club? How did you convince everyone?
We took six months to set up PSD, get to know it ourselves and prepare all the startup parameters. As a result, the implementation was very successful. That is the key to success: preparing the go-live as good as possible and being able to step in ourselves in case of problems.
We chose to implement PSD step by step. Not all at once. We spread the full implementation over a period of three years. If you ask me, that is the most sustainable way to ensure that PSD becomes part of the way we work. The use of the system is already (after the first season) a lot higher than what we had expected.
We chose to do all sports communication via PSD immediately from day one in the new season. We asked our coaches not to share match, team or training info via WhatsApp. In this way, we ensured that parents quickly got the login in place. The parents immediately saw the benefit of this, it was compiled, it was all up to date, ...
Our coaches were encouraged to make match preparations, match reports, ... We did see that this was more difficult, the coaches interpreted it as extra work they had to do, even though we had prepared a lot of exercises and training sessions. It took us a season to convince them that it would be very beneficial in the long run, but now in the second season they are convinced of the advantages.

(read more below the picture)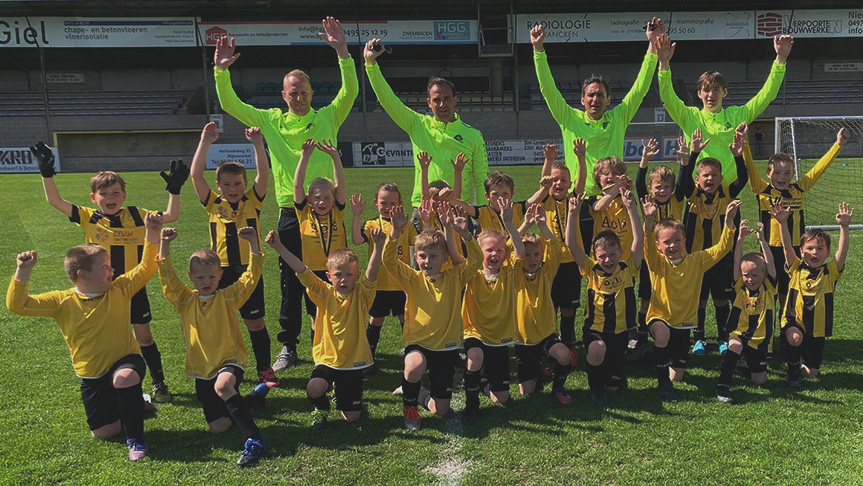 Which PSD module do you use most often?
The most frequently used modules depend on the timing in the season: During the season most certainly the planning module and the preparation of training sessions and games. At the start of the season we often use the scouting module.
What achievement or aspect of the club are you most proud of?
Achieving the P label for our Lions Academy and how we handled it. We restructured the entire club operation, laid a solid foundation for growth and established a continuous improvement mindset. After all, flexibility is the key to continue taking qualitative steps forward.
What does the academy want to achieve in the next three to five years?
This is something that keeps us busy every day: we make short-term, medium-term and long-term plans. In the long-term, we want to become the best youth academy in our region in the next 3-5 years. That is a very clear objective. On the other hand, between 5 and 10 years, we want to play in a new accommodation that fully meets the current standards.
Thank you for this interview!